"Once in a life time opportunity"
Absolutely sums it up doesn't it? You only get a short time to get the precious photo's of your few week old baby with Santa because before you know it they have grown or the year has past.
The cutes photos that you can send relatives, these photos will definitely get the aaaawwww response from friends and relatives.
Santa Newborn photos are available throughout all of our experience packages or our Santa Photo package.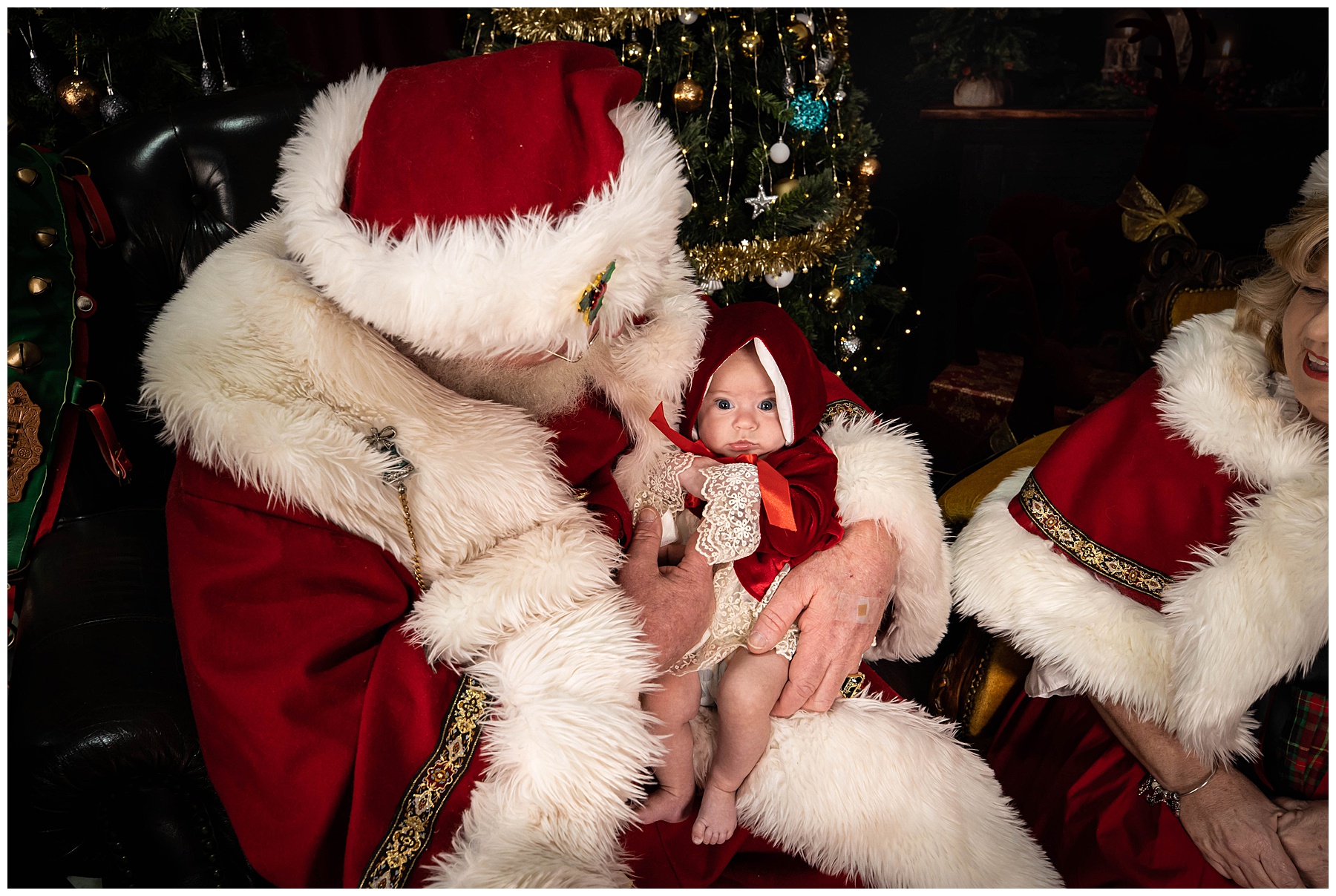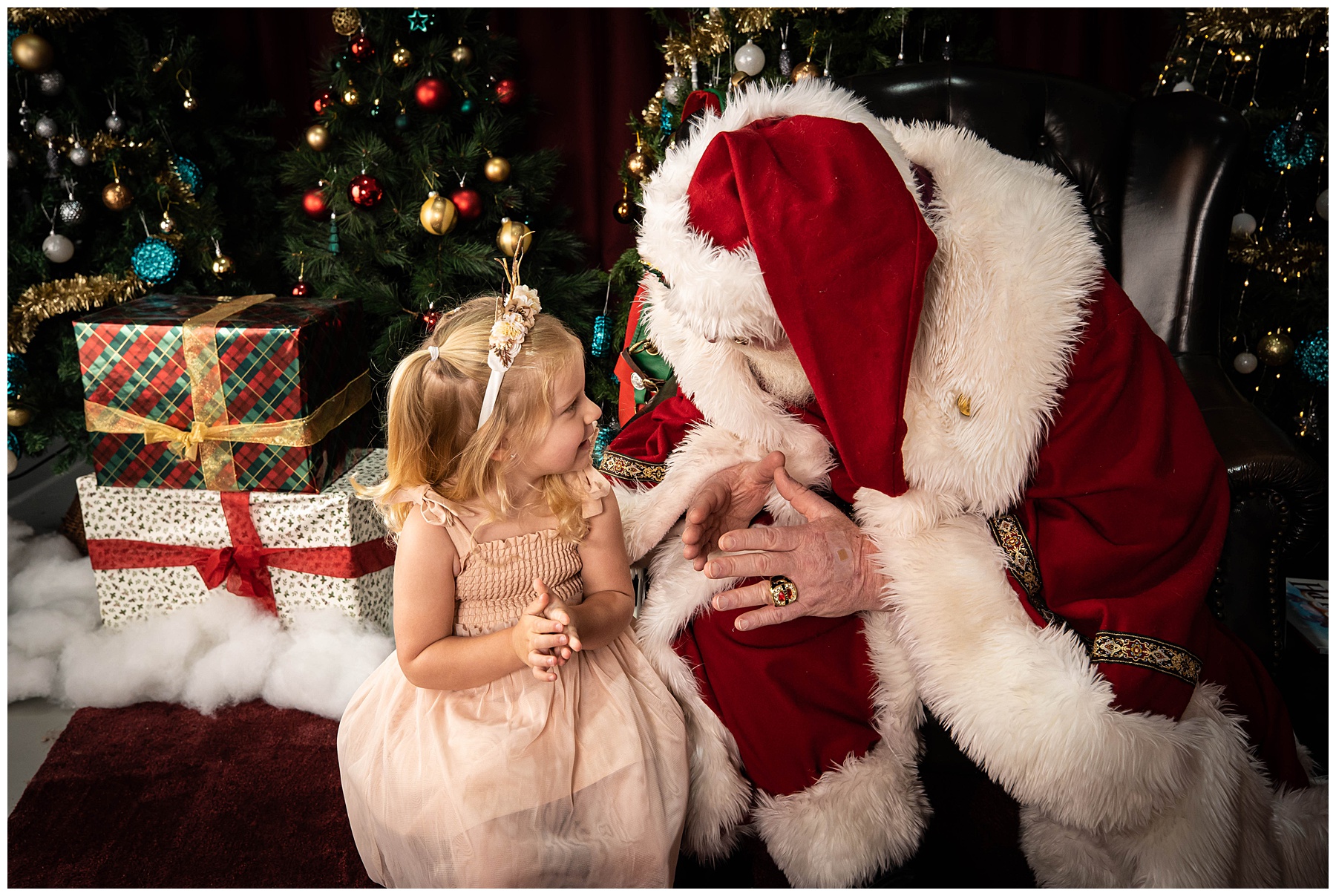 For us a photo with Santa isn't just a photo with Santa it's a visit.
Suitable for ages 0 to 5 there are posed shots and some Santa engagement that will get a tear of joy as your child sits with Santa.
Parents are also able to be in all photos too
It all changes for children once they reach the age of 6. It all starts to make sense, Santa, the Nice list, Reindeer, Mrs Claus the wonder of Christmas, the Elves and the true believer begins.
The experience is all about your child and their Christmas curiosity. 
Questions are welcomed and wanted as the questions your child has drives the experience.
No two experiences are exactly the same as Santa and Mrs Claus (when she is available) will confirm the wonder of Christmas with their knowledge in such a way that even adults begin to believe again. 
Time melts away and there are always more questions and laughter to be had with Santa, but they will have to wait till next year when you can see him again.
Adults are encouraged to become involved, share some of the experience with your children, after all Christmas is about family and there's no better way to start than with the Santa experience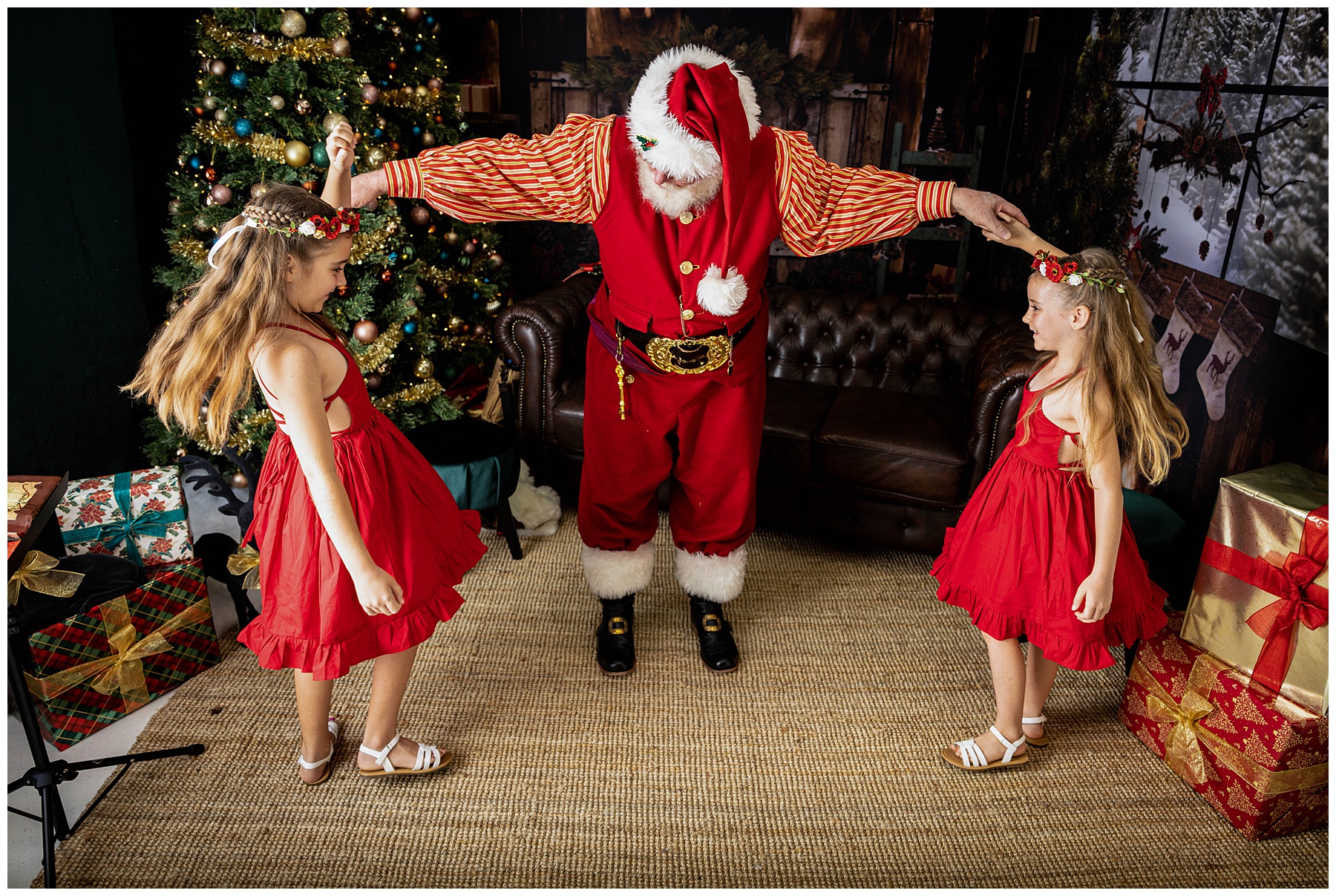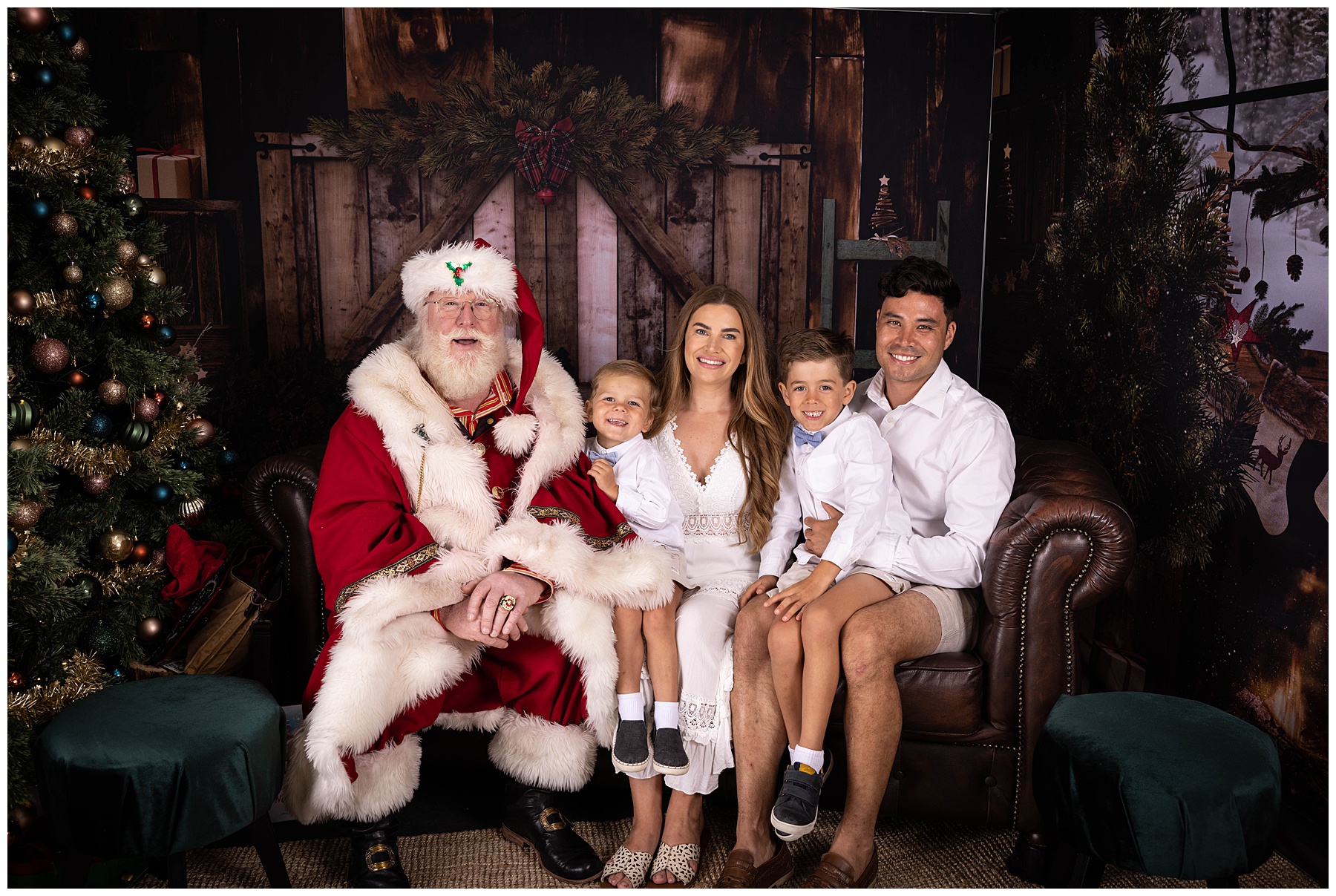 The 'more than a mall Photo' with Santa
Although this is not the full "Santa Experience" this is a great opportunity for your children to meet Santa and have a great yearly photo. 
We offer the biggest range of Santa Experiences in Queensland. 
"The WOW" Although this is not the full Santa experience, every visit with Santa we offer has truly wonderful elements you will find nowhere else in Australia. 
Whether its one minute or 15 just like so many others from 2020, your children will believe. 
"WOW We just met the real Santa"
Megan…2020
Why us?
No shopping centre "audience", no busy, noisey shopping centre distractions, – because we are a private studio our Santa set is an environment that allows your children a photo with 'Santa' not the shopping centre crowds.
We have put together an affordable package that gives you a great photo opportunity with digital and printed memories while still in a studio space. 
This package, although not giving you the full experience of  our Santa Experiences, allows you the chance for your children to meet Santa, capture gorgeous images, and walk away with unedited images on the day as gorgeous prints. 
The prints from this session are all of the same image and come unedited. 
Our Santa…. What can we say that hasn't been said by our wonderful clients. 
Parents are also able to be involved too
The santa experience was magical for not just the kids but also us! Santa was very real, he told stories we could envision and gave us that feeling of Christmas spirit we haven't felt anywhere else for many years. The kids will never forget the experience and the photos were absolutely beautiful ❤ definitely going to do this again next year xx
Such a beautiful and unique experience. Angie helped us to create such wonderful memories for our son's first Christmas! I love that they're not posed photos, but photos of beautiful moments of Santa and Mrs Claus interacting with my son. We are so thankful for these memories. Thank you!
This was absolutely the best santa experience ever with 2 special needs kids we use to use sensory santa this year I wanted something different and found desire to inspire thanks to Google I contacted Angie to ask if she could accommodate my family was very excited when she assured me she could. Santa and Mrs Claus were just so sweet and made my kids very comfortable with the end result being the most beautiful photos ever. Can't wait for next year
The best experience ever! We will definitely be back. With 2 kids on the spectrum & 7 in total this was by far the most enjoyable photo experience we have ever had. They all had time to chat to Santa & Mrs Clause and get comfortable with their surroundings. Mrs Clause was warm & caring to my daughter who is a little scared of Santa. Even the teenagers had a great time with Santa's 'Dad' jokes. We cannot thank you enough.
The best experience ever, my son absolutely loved it, I had tears in my eyes watching him with Santa, he can't wait for next year and already preparing questions he would like to ask Santa and Mrs Claus, thank you so much for this beautiful and amazing experience and photos ❤️ Please say extra thank you to Santa and Mrs Claus as they were absolutely amazing, see you next year
Was the best experience ever not only for our daughter but also for my wife n I..it was a uplifting moment that we all got to feel closer to Santa n mrs Claus an felt the true meaning of Christmas spirit n belief in it..was an incredible an wished all kids could experience it n not feel daunted by the Ho Ho Ho n red suit an feel happy n comfy chatting n excited to see Santa n Mrs Claus..JOB WELL DONE 🍻👌
Was such a beautiful experience. Having a special needs child, we usually go see the sensory Santa but it's just a picture and you leave. Our son had an engaging chat with Santa. Our 1yr old wasn't too keen but still sat and enjoyed watching her brother. He was thrilled Mrs Claus was also there. She was warm and friendly. To top it all off they got given gifts they weren't expecting. Our son is still talking about how special it was to 'meet' Santa. The atmosphere and vibe was amazing. It even made my husband and I feel a bit like children again- back being 'believers'. Angie took some amazing pictures, none posed, just natural shots that we can treasure forever.
My eldest daughter was absolutely blown away by her chat with Santa. She couldn't believe Santa let her hold his key and try on his coat! We got so much more from this experience than you'll ever know. Thank you for keeping the magic of Christmas alive! The pictures were a beautiful bonus of the wonderful time we had. Although our little bubba was not quite the happy little camper you still managed to capture a gorgeous family photo! Thank you so much for this experience....we hope to do this again next year!
We were so worried about our bubba's first Christmas photo being an awkward distanced photo in a shopping centre. We found your Christmas experience completely by chance and oh my goodness am I glad we did! Not only did you go above and beyond to make our little mans first Christmas photos truly beautiful, but Santa was so gentle and wonderful with him! We even managed to score a photo of one of his first smiles! Thank you so much for these beautiful memories that we will cherish forever! You have return customers in us for years to come! (Assuming we can get a spot of course as I can see this experience becoming too popular already 😂) from the bottom of our hearts, thank you so much
The santa experience was so amazing and the ladies out the front were wonderful and so friendly, I of them even sat down and listened to my son tell her all about the playstation game he loves in great detail, it was nice not to have people getting frustrated with him talking about it all the time. Santa and Mrs Claus did a great job and were so patient with both my kids. Even when my youngest cried and didn't like Either of them to start with by the end we got some hi 5's, waves and sort of smiles. My bigger boy (who has ASD) loved everything, I loved how patient santa was with the stories he was being told by my son and really listened to him... They both loved their present and certificates, as soon as we arrived from my older boy put his on the tree.
The best experience ever. My six year old was beside herself that she met the REAL Santa and Mrs Claus and even my 12 year old who no longer believes said it still felt magical and real. They both love that Santa smells like candy canes too. Haven't stopped talking about it for weeks. And Angie made the whole experience perfect with all her effort for gifts for the kids and the certificates etc too. Absofrigginlutely amazing and will be back every year!!!
This was such a beautiful experience. The awe on my two boys faces made our year. Santa and Mrs Claus were absolutely amazing and had all the time in the world for the kids. Then at the end we got the most gorgeous photos to remember our experience with. Angie was lovely and made everyone feel so welcome. We then had the photos back super quick. Such an amazing experience all round
Santa and mrs clause were amazing with my son Very gentle and caring They made me feel very relaxed and made my son feel very relaxed Such professionalism Very friendly Photos are amazing Everyone was so helpful Angie is very talented
Most amazing Santa Experience on the planet ♥️ thank you so very much.
Hi Angie! How can I ever thank you enough for giving my children the most amazing Christmas experience and then capturing the moments so beautifully. I adore our photos they are simply stunning. My eldest is still talking about how she met the real Santa and Mrs Clause!!! You have given them the gift of Christmas magic and I know this will last them a lifetime. We will be back next year FOR SURE!
Would you like your kids to be part of something special?
Contact us today to make your Childs day to book in for our next lot of sessions in 2021